Isolated Perfection: An Introduction to Jainism with Analogs to Contemporary Esotericism
June 10 @ 7:00 pm

-

8:00 pm

MDT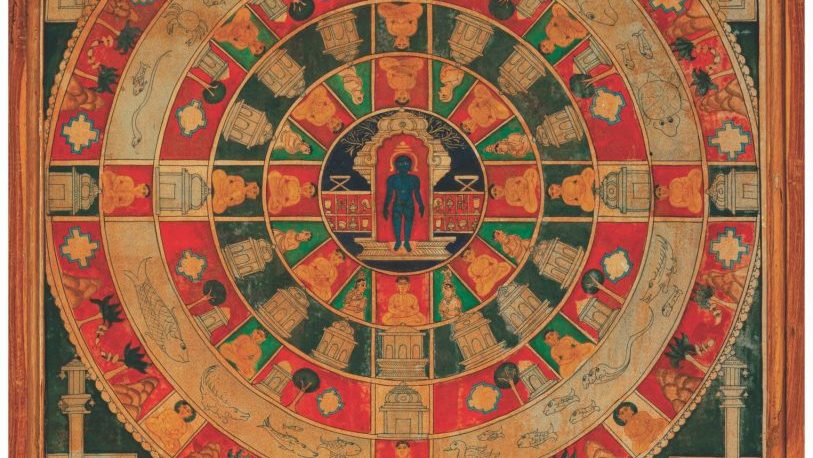 Jainism is a six million strong, minority South Asian religion pre-dating Buddhism and Hinduism though it maintains literature far more vast and old than the relatively small number of adherents suggest.  Jains advocate extreme nonviolence, sophisticated vegetarianism, and rigorous asceticism, all derived from the philosophy and practices of their 'Ford Makers', the 24 prophets or Jinas, 'conquerors', whose lives stretch back into hoary antiquity. Powerful practices confer the absolute gnosis (kevala jñāana) that renders men into Jinas.  They recognize no creator god, nor ability for deities to confer salvation: you gotta do it on your own!
Jain monastics are recognizable for wearing simple white robes or being completely naked, though they all wear masks and sweep before their footsteps to prevent harming any living beings.  While there will be no more Jinas in this cosmic time cycle, through study and austerity Jain ascetics and layfolk aim to isolate themselves from sense experience and to remove karma, conceived as a sticky substance occluding the luminous soul. They perform a kind of yoga of viyoga, a practice of separation.
The Jain doctrine is one of the most consistent of Asian philosophies, and Jain figures have effectively challenged and often bested other South Asian religions in debate.  Despite their rigor, Jains have historically engaged and adapted to trends such as tantra and pragmatic magic, but they do so in ways consistent with Jain doctrine and practice.  The Jain insistence on meditative isolation has potent resonances with contemporary Thelema and Left-Hand Path meditative practices.
This talk will be in two parts.  The first is an introduction to the history and philosophy of Jainism, and the second will be a conversation about occult resonances and takeaways for magicians. This talk will be of value to anyone interested in Asian religions, meditation, Yoga (Modern Postural or Thelemic), and Left-Hand Path notions.
Aaron Michael Ullrey, PhD, teaches Religious Studies at Youngstown State University.  His current research focus is Śaiva magic and the scriptures called tantras, which will culminate in a book published by University of Amsterdam Press.  His is coediting a volume on folk religions for Routledge, Folk Religions (Re) Considered.  He is planning a future monograph on magic in Jain tantras.  He has travelled extensively in South and Southeast Asia conducting research.  He has given previous talks for the OTO on the history and cultural context of yoga. Aaron is a sometimes Thelemite and a sometimes scholar, but he is an all the time teacher and brother.  He is happy to call Crux Ansata his home Oasis.
---
See our Diversity Statement here.
By participating, you are agreeing to abide by our Code of Conduct.
---
Crux Ansata is inviting you to a scheduled Zoom meeting.
Join Zoom Meeting
https://zoom.us/j/95829175104?pwd=NG53K3dwbzFxRy9tQzNGQ2wyc1R1dz09
Meeting ID: 958 2917 5104
Passcode: 226804
One tap mobile
+12532158782,,95829175104#,,,,*226804# US (Tacoma)
+13462487799,,95829175104#,,,,*226804# US (Houston)
Dial by your location
+1 253 215 8782 US (Tacoma)
+1 346 248 7799 US (Houston)
+1 669 900 9128 US (San Jose)
+1 301 715 8592 US (Washington DC)
+1 312 626 6799 US (Chicago)
+1 646 558 8656 US (New York)
Meeting ID: 958 2917 5104
Passcode: 226804
Find your local number: https://zoom.us/u/accWdlFfcH